by Donald R. Walker
Don Walker is an Indianapolis-based artist, writer, and activist (https://m.facebook.com/drwartist/).  A former resident of Cincinnati, Don maintains ties to Cincinnati through his son Andrew and Andrew's mother, UAC board member Dr. Roberta M. Campbell.  He took these photos while visiting Cincinnati recently and posted them, with these kind words, on Facebook.  He has graciously given permission to reproduce his composition as a UACC blog post.
Urban Appalachian Council (1974-2014): The Urban Appalachian Council (UAC) was a non-profit organization providing advocacy, community outreach, cultural activism and scholarly research into the challenges of Appalachians leaving the home place to seek jobs in the urban midwest. Operating frequently on a budget that made "shoestring" seem luxurious, the UAC worked tirelessly, if to the point of exhaustion, to battle stereotypes, champion cultural uniqueness and generally combat the off-hand discrimination that permeates our society.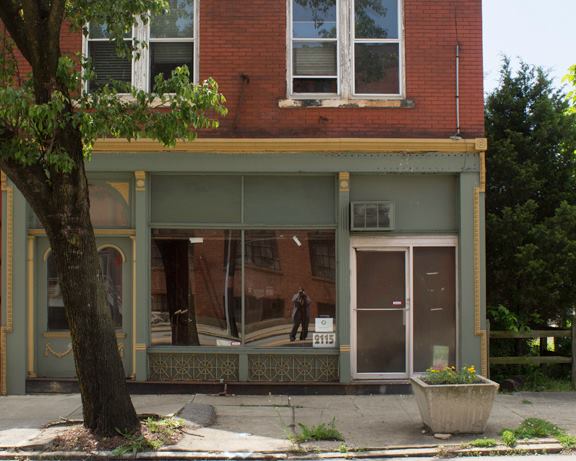 As a radical, I despise what the United States has become but still hold out some hope for what we could be if we were at our best. Organizations like the UAC, small, agile, living and working at the very heart of the issues they attempt to address, are our best line of defense against our subsumption into a corporate, elitist oligarchy. The UAC is gone but many of its members fight on!
These pictures were taken yesterday (5/22/16) outside what had been the UAC's offices on 8th street in Cincinnati's Lower Price Hill neighborhood. The mural is over 20 years old. There were, to the best of my knowledge, never any BMWs in its parking lot when in the years when I visited!